GRF-1300A RF and Communication Trainer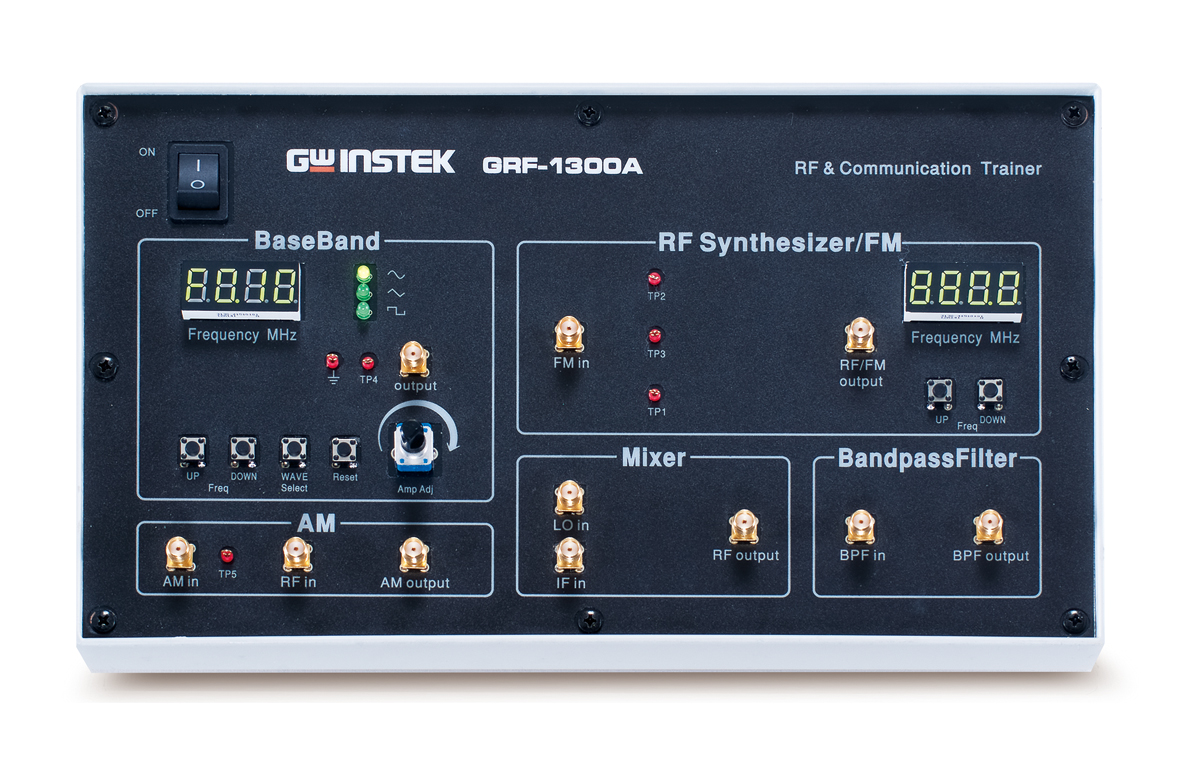 Features
Baseband Signal: Sine, Triangle, Square wave

Frequency Range: 0.1 ~ 3MHz

RF Frequency: 870 ~ 920MHz

AM & FM Modulation

Mixer & 2.4GHz Bandpass Filter

5 programmable On/Off Switches and 5 Test Points to Simulate 8 Failure Conditions for Trouble-Shooting Study

USB Interface to Provide Remote Control
Description
GRF-1300A, as an optional accessory of GSP-730, is a trainer for basic RF communications experiments.
The brand new GRF-1300A RF training kit features not only all functions of GRF-1300 RF training kit but also augments itself with Mixer and Bandpass Filter. Users can better understand the characteristics of Mixer and Bandpass Filter by operating scalar network analyzer measurement which is produced by combining GSP-730 spectrum analyzer, GRF-1300A RF Communications Trainer, and USG signal generator.
The combination of USG signal generator and GRF-1300A Mixer function can produce 2.4GHz AM and FM modulation signals. GRF-1300A Bandpass Filter can purify the output signals by filtering out harmonic and spurious produced by Mixer output signals.
Specification
Manufacturer Specs
Accessories
Turn-key solution for RF and Communications Courses
GSP-730, Spectrum Analyzer x 1
USG-LF, RF Signal Generator x 1
GRF-1300A, RF training kit x 1
ADP-003, N-type to SMA Adapter x 1

GSP-730, 3GHz Spectrum Analyzer
Standard Accessories
Quick Start Manual *1, User Manual CD *1, Power Cord *1
GRF-1300A, RF and Communications Trainer
Standard Accessories
Experiment Text Book, Student Version x1, Power Cord x1, CD-ROM with PowerPoint file and Primary RF Software x1, RF Cable x6, Antenna x2, N to SMA Adapter x1
Option
GBK-002, Experiment text Book, Teacher Version
USG-LF44, RF Signal Generator
Standard Accessories
USB cable x1, CD-ROM with USG software, Primary RF software and User Manual x1
Free Download
Primary RF, Remote Control Software
USG Java program
Ordering Info